Citiparks: Transforming Citibike Docking Stations into Bike Share Parklets
-or-
101 uses for a Bike Share Dock
Bike share kiosks are great for bikers, but do little for the other residents of the blocks they are on. This is not very different from the old car-centric model of street use that they are replacing. What if bike share kiosks can be transformed from spaces solely for bike share riders to community spaces that benefit
all
who live in a community?
NYC has just installed 300+ Citybike stations. Officially their purpose is just to serve the bike share program. But unofficially something else rather interesting is occurring...
This was taken before the Citibike opening at the 7th Ave Whole Foods Citybike Station. The guys on the left and right were both using the Citybike Stations as a sidewalk cafe.
Here's two people sitting and eating on Citibikes.
The Citibike version of a Sidewalk cafe
parklets
.
A Parklet in San Francisco
However the seating and eating capabilities of the Citibike stations are not ergonomically up to snuff, especially for older people. With some low cost additions, these bike share stations can be transformed into real Parklets to better serve all community residents.
See the rock in the photo below, I assume it exists to stop the Union Square Citibike station from being backed into by a car.
A few minutes after I took that picture I took this one...
A Bike Share station that is also a Parklet
These folks are using the station's rock as a bench. This is far more Age-Friendly seating than leaning on the docks or sitting on the Citibikes. As at this location, placing a rock at a bike share stations has already being done at some other locations. These stations can be considered full fledged parklets with limited seating as opposed to de facto parklets. Other Citibike stations without adjacent seating areas can easily be transformed into parklets by the simple addition of a rock, without having to have any new design approved.
. Note the space between the docks...
Citibike is going through through startup shakedown at the moment so I don't think it's the time to add seating between the docks. However it is the time to have a design competition to come up with ideas on how best to implement seating at bike share stations in the future.

.As these photos show bikes and people
can
share
a former car parking space
link
"There's a complicated ballet on the streets of New York," she said. "You've got drivers, and you've got pedestrians, and you've got cyclists. And which mode you're in determines how you feel about the other two." Not all of those groups are created equal. Remember, she said, "every New Yorker is a pedestrian at some point during the day." Janette Sadik-Khan interview in NYT

"After 3 months of checking we came to a spectacular conclusion; people sit most where there are places to sit...

" -William H Whyte following passage

in a book

"A Pattern language"

by Christopher Alexander

"People need green open spaces to go; when they are close they use them. But if the greens are more than 3 minutes away, the distance overwhelms the need. … This problem can only be solved if hundreds of small parks-or greens are scattered so widely...that every household...is within three minutes walk of the nearest one." -

This

Unified Public Spaces Map

shows the outdoor public spaces with seating of NYC's Chelsea neighborhood. There are locations, especially in south east Chelsea, where residents have to walk more than 3 minutes to find an outdoor seating location. The red dots are bike share stations

,

by adding seating to each of these bike share stations it will help assure that there is outdoor seating within a 3 minute walk of all residents of this community.

I can see our

Citibike Dock Stations

transformed into

Sidewalk Parks/Community Recreation Spaces

for the blocks they are near. Each can offer a variety of recreation amenities chosen by each block to meet it's own needs and desires. Here's some examples of possibilities:

This map shows the Public Libraries of mid Manhattan. The east side has a lot, see the West Side, there aren't many there. Add seating to the Citibike stations, plus books storage and we'll have outdoor reading rooms (or as I like to call them

Read-Fi Hot Spots

) on our blocks. There's a concept called

Little free Libraries

, thousands of these have been installed over the world.
image from Little Free Library website
This little free library is located next to a bench, creating a
outdoor reading room
The Chinese have done just that
...and so has the City of Los Angeles...
Here's Some Possible benefits for Citibike Users
Moving the Kiosks from a space exclusively for Citibike users to a shared space model will also benefit Citibike Users here's how.

Bicycle Electric Generator
Citibike stations powered by sunlight are experiencing a problem of not enough power.
Some stations run on solar power, which the New York Post reports doesn't work very well in the rain or overnight. Others run on batteries, the New York Times notes, which means that on nice days, "the sun can help sustain a station, but ideal riding conditions beget heavy use, which can drain batteries."
Jimmy Sing, who works for a subcontractor responsible for battery maintenance, said the solar system was the major issue. "Most of the batteries are draining at night," Sing explained as he swapped out dead cells at the Great Jones St. station in NoHo. "If there's no battery working, the system locks out," he said. "You cannot dock in or dock out." NY Daily News
Voltatic Systems figures the cells are
generating a maximum of 210 watts .
They also show a solar bikeshare system in Montreal that can be powered with 30-40 watts. So I would guess somewhere between the two numbers would power our system.
This stationary exercise bike will generate up to 300 watts.
link
If a unit like this is installed at Citibike kisoks...


-Neighborhood residents get free use of bike exercise equipment, without having to "go to the gym". Equipment in turn charges Citibike battery.
- If a Citibiker still finds a station without currently enough power in battery to run station, Citibiker can always use fitness equipment for a few minutes to charge the dock.
see also:
Navjot Kaur, a co-founder of
The Charge Cycle
, a company that makes
bike stations that can charge personal electric devices using pedal power
told us that his company has also considered the idea of adding generators to Citi Bike stations. "We think it'd be an added benefit to the bike users and to even people that need a charge when a bike is docked," he wrote to us in an email. "The Citi Bikes are already using a dynamo to power the front and back lights of the bike. To add the ability to charge a phone would be an integration into the PCB on board."
So the technology exists, but, just like everything else in New York, it all comes down to money – something that, right now,
Citi Bike says it's fresh out of
. "I'd guesstimate each [generator unit] would run around $350," Maschmeier told us. Of course $350 x 6,000 (the number of bikes in the bike share program) is well over 2 million bucks, so installing generators on every single dock is probably a longshot. But what if only one bike dock per station was equipped with a generator? With 330 stations (the current count), we'd be looking at about $115,500 to install one generator per station. Or, generators could be installed only at the stations that need a little extra juice (remember that some riders have
been complaining
that solar-powered Citi Bike stations oftentimes don't work on cloudy days). According to Maschmeier, the system's credit card machines don't use much power, so it would likely only take one person pedaling for about 30 minutes to store enough charge in the battery to keep the station up and running for the day. Half an hour spent pedaling on a stationary bike may sound grueling to some, but let's not forget that
some people are already doing it just for the sake of their figures
.
In addition to powering up Citi Bike stations themselves, pedal-powered generators could also come in handy during blackouts (something we've been
worrying about quite a bit in NYC these days
). If Citi Bike docks were outfitted with pedal-powered charging equipment, it's possible that people could use them to charge phones, medical equipment, computers, radios or lights in times of emergency. Of course, we'd also have to make sure that the generators themselves – which sit on the ground – are sealed up tightly enough to keep water out


Read more:

How Citi Bikes Could Be Used to Generate Pedal-Powered Energy for NYC | Inhabitat New York City
http://inhabitat.com/hybrid-squared-an-energy-generating-bike-rental-system/
Helmet Locking Stations
The thing about toting a helmet around is that I've never found a really good way of carrying one around. link
Where helmets are optional cities generally see 4% to 30% usage rates. For some people the reason they don't wear a helmet is they just don't want to wear a helmet. For these folks other than having a mandatory helmet law nothing will get them to wear a helmet. For others the reason may be people don't want to carry it around
So how to make it so you don't have to carry around a helmet? One solution is to lock and leave helmets at docking stations
Locking the helmet at a parking pole near a dock ,Advantages: this can be done now, disadvantages: ,to do this you must carry both a lock and cable, probably no more than 2 helmets can be easily placed on a single pole.
Adding
this
to Citibike stations would allow 16 helmets to be locked on the ends
Loopy Pole Example
Flexible cables would be added to the loops. You can then lock your helmet to the pole at a station and retrieve it on your return trip,. No longer must you carry it around with you.
Citibike users would still need to carry a lock with them for this to work. The above locks are around $6.00
R
esearch has shown that adolescence believe access to helmet storage would increase helmet usage
-NYC Active Design supplement p 34
Bicycle Rest Stops
Madison's first bicycle rest area was installed on the Capital City Path near its junction with the Yahara River Parkway Path. The rest area has two benches, bicycle parking for 5 bicycles and a bicycle repair station including an air pump. Across the path is a water fountain and a map of area bicycle facilities.
Convenient bike rest stops in Arizona
Citibikers need rest stops too. Where a Citibike Kiosk is adjacent to a park, Citibikers have easy access to a place to rest. Adding seating to the docks could turn most Citibike Kiosks into bike rest stops for both Citibikers and non Citybikers..
Display Rules of the Road
Frank Holuzbiec noted that while Citi Bike has been generally well received, little work has been done towards creating a public awareness program that serves to instruct cyclists on the rules of the road.Chelsea Now
On top of the Citibike Docks. Rules for the use of Citibikes can be placed so that Citibike users can better learn the rules.
101 Things To Do At A Citbike Docking Station
Nancy Bruning 101 Things to do with a Park bench is inspiring. I bet there are at least 101 Things to do at a Citibike Kiosk. I'm now putting together a list of 101 starting with the ones already stated in this post:
1 Creating 3 minute Parks
2-Lean on Docks
3-Sit on Citibikes
4-Dine on Citibikes
5-Hold conversations, while leaning on docks
6-Outdoor reading rooms
7-Stationary bicycle exercise
8- Miniatures gardens
9-Community Art exhibit space
10-Merchandise display during block flea markets
11-Petal power electric generation
12-Nancercize for Citybike Kiosks
13-Helmet locking station
14-Bicycles rest stop
15--Rock seating
16-Shade area
17-Trash basket
18-Rules of the Road
19-Community/Block Bulletin Boar
d
Block events happen on a regular basis in our neighborhoods. Unfortunately there are few places to legally post notices of these events. A single panel community bulletin board can be placed in the space between the docks.
link
20-Activities partner bulletin board
21 Walking/Wandering the Neighborhood Rest Stops
Walking is the healthiest way to get around outside of cycling and a third of New Yorkers do just that. But it's really hard to find a place to sit down Providing pubic seating is very important. . " Janette Sadik-Khan, Commissioner, NYC DOT
Every minute you walk can extend your life by
1.5 to 2 minutes
. By adding
real
seating at the docks it gives walkers a comfortable places to rest. The addition of other functionality like the outdoor reading room materials, something to do while resting.
"Walking and wandering are two very different things. Walking is functional; it is merely the act of getting from A to B on our own two legs. But when we wander, it is the journey–not the destination–that matters"-Brian Crain
This printable Park Chelsea map lists all the publicly accessible walking rest stops in Chelsea. The red dots are Citibike docks, adding seating to them would transform them into walking/wandering rest stops.
22 Charge Cellphones
Citizens of New York City will no longer have to awkwardly go into a carrier store and ask to use their chargers and outlets. Thanks to Goal Zero, AT&T and Brooklyn design studio
Pensa
, NYC is getting several free solar-powered charging stations across the city.... they also have the potential to provide Wi-Fi and lighting
Streetcharge
23 Neighborhood Emergency Communications Hub
During Hurricane Sandy, with electricity gone, communications was down in much of lower Manhattan. Citibike kiosks have internet access, are powered by solar( and I'm suggesting they be powered by pedal power too). Add a epaper screen internet display to them and during an emergency with no electricity these stations could double as communications between the city and residents.Add a cellphone charge adapter and the hubs become cellphone charging stations during an emergency.
The West Seattle Emergency Communication Hubs are our emergency community gathering sites in case a major disaster occurs that makes it impossible to get information and help in the usual ways.
In an emergency West Seattle residents have to be able to shown on a map(above) where their emergency hubs are. In areas of NYC with Citibike docks all you need to do is let people know to go to their nearest Citibike Dock.
24 Citibike Kiosk Wi-Fi Hotspot
Adding a Wi-fi hotspot to Citibike kiosks, plus seating will allow neighborhood residents to spend more time outdoors surfing the web, rather then indoors. Solar power the WiFi and it becomes part of the neighborhood emergency communications hub mentioned above.
25 Bioswales
Bioswales absorb water
.
During storms, they can absorb water rather than the water overloading our sewage systems.
There is an area in each Citybike station that is a buffer between it and the rest of the street(lower left corner of above photo).First off, I have almost tripped on the low white object a number of times now. Not good. Something more visible must replace it. One thought if we transform it into a bioswale it can help the city in it's quest to substitute green sewage infrastructure for building new gray sewage infrastructure. Doing this can save the city tens of millions of dollars in construction costs.
While the Columbus Avenue bioswale's performance during stormy weather has yet to be assessed, the DEP said that their bioswales (they warned that the building specifications, and therefore performance, of other bioswales may vary) soak up 2,244 gallons during storms.
Columbus Ave Bioswale
26 -Leave an item, take an item cabinet
-Adding a a recycling cabinet at docks, to create a node in a
Freecycle Network™
Freecycle -. It's a grassroots and entirely nonprofit movement of people who are giving (and getting) stuff for free in their own towns.
27 Do a good dead for people you'll never meet
link
28-Tying Ones Shoelace
This fellow uses a dock to tie his shoelace
29 Stage Prop
Citi Bike Makes Surprise Cameo At Upright Citizens Brigade
Charlie Todd, a performer at UCB and devoted Citi Bike fan, said the ride was incorporated into the theater's improv wrestling show, UCBW's Pay Per View with one character, The Parking Defendant, using the bike to viciously clothesline Old Fishtix, Bob Dylan and Idaho Jones link
(see also item 96)
30 Dining Table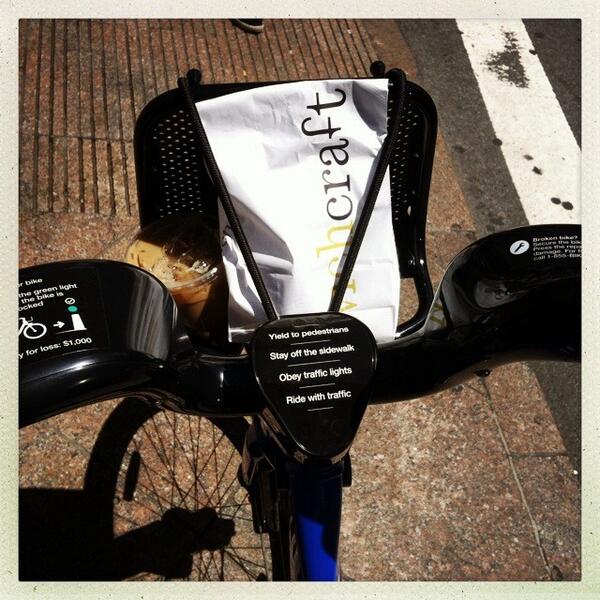 @citibikenyc basket did a good job of holding my iced coffee / turkey sandwich from @wichcraft 32nd/Broadway pic.twitter.com/063kkzP62V
If one sits on the bikes to eat,or stands next to them,as this fellow shows the basket can be used as a dining table
31 Eating/drinking stand
Hinged this will flip down when not in use.
32 Seniors Schmoozing Spot
" (seniors) care about benches, trees, gardens and open spaces closest to where they live. Big parks are for occasional visits in most cases."
-
Creating an Age Friendly NYC, One
Neighborhood at a Time
On W 25th St at 10th ave, a group of seniors like to bring out chairs and sit and talk. The Citibike Parklet could have seating to allow this to occur.
33 Municipal Government Literature Rack
I've been to the community office of my local City Council Rep. There are two tables in the office with all sorts of handouts from all sorts of City agencies. Most community residents, never get to the office. A City Gov literature rack at the kiosks would allow agencies to leave handouts to the community at the docks.
34- Spin Cycles
An article in the NYT talked about the use of Citibikes as backwards spin cycles.
. I checked and found another article in the NY Times that says it's useless as exercise, which wouldn't matter because it seems fun, but the article also said it may also cause injury so I wasn't gonna include it on the list until I learned more. Then I viewed this flashmob video from London where the bike shares there were transformed into forward spin cycles.
35-Job Creation
Fellow posted this:
"I see here the potential, which I know will be unrealized, for CitiGroup to create jobs by having trained people at the stations to prevent vandalism and theft, maintain the stations, assist potential customers when stations don't unlock to remove or return bikes, assist tourists who may not read English or may have questions because they're unfamiliar with how the program works, perform maintenance and repairs to the bikes and otherwise make the program more successfu

l." link
6/26/2013 update: Turns out this is creating some jobs. Today I ran into a Ciibike employee Guy on 21st and 6th Ave. He has a territory from 6th to 9th ave, Street. His job is to help people with Citibike questions. In the short time I was there he helped about 5 people. he is one of 20 Citibike employess with this specific job.
Guy helping 2 other guys
from
Citybike
in Copenhagen
Citybikes provide jobs
The city bikes are maintained by
Incita
, a local non-profit organization using the citybikes to train and support hundreds of rehabilitees every year. The program is a succes.
36 Book Holder
Grant Tinker who was head of NBC did not sit down while he worked. For those who like to read while standing, a Citibike dock can becomes a handy book holder
37 Dock A Bicycle
I can't believe I got to #37 before adding this use.
38 The Whole is More Than the Sum of Its Parts
The 300+ Citibike kiosks already meet this maxim for bikers. With the change of 1 one word they could do so for everyone.
The Whole is More Than the Sum of Its Parks
Some city planners would like to use parklets more assertively. "So far each one has been something in and of itself, but we're beginning to think about their potential as tools for larger change," says David Alumbaugh, who directs the department's City Design Group, which includes the parklets team. He contemplates using a series of parklets as a way to pull people into neighborhoods that otherwise might be avoided by outsiders, or concentrating them in such a way as to form a sort of traffic-calming system: "There might be ways to tie several of these spaces together…. A few years ago, any proposal to do something in the street was met with such resistance. Now that they're popular, it's 'Why not do more?'" link
38 Take Surveys at to better serve everyone
link
39 Citybike +Citybench
Given the space between most docks, designing custom seating to fit should create the best designs. In some cases there is no space between the docks (21st and Broadway for instance). Here the Flatiron Partnerships benches are in the adjacent plaza.
100 Sidewalk art
101 Customizing Citibike Parklets
Parklets are generally designed as unique at each location they are placed.
link
This allows for unique wonderfully creative parklets. However each must be designed from scratch and go through a city's approval process for each new one created.
Mix and Match Modules
For some communities adding amenities like seating to the parklets, could be done as simply as requesting standard furnish modules from DOT. Working this way through City approve furnishings means that no designing or additional approvals will be necessary to get a CitiParklet up and running.
Working with a standard form does not mean that these Parklets will lack uniqueness and creativity.
For blocks that want to be more creative, custom furnishings and graphics can be done.
For example, here are several benches from Rochester's
Benches on Parade.
working within the constraints of a standard bench form each bench was uniquely customized by the sponsoring group.
201 Things to do at a Citibike Docking Station
Having reached 101, 201 seems to be a reasonable next goal. the list for the next 100 is
here